BY AIR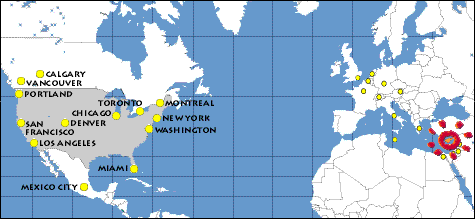 EUROPEAN GATEWAYS

Cyprus is served by several major international airlines from European gateway cities. From North America, travellers can break up the journey in the European city of their choice or elect to keep connection time to a minimum. Popular gateways include the following:
EUROPEAN GATEWAYS TO CYPRUS
London
4 hours, 30 minutes


British Airways
1-800-247-9297

Virgin Atlantic
(codeshare with Cyprus Airways)
1-800-862-8621
Amsterdam
3 hours, 30 minutes
Northwest/KLM
(codeshare with Cyprus Airways)
1-800-447-4747
Athens
1 hour, 40 minutes
Olympic Airways
1-800-223-1226 or 212-735-0200
Frankfurt
3 hours, 30 minutes
Lufthansa
1-800-645-3880
Zurich and Geneva
3 hours
Swissair
1-800-221-4750
Helsinki
Finnair
1-800-950-5000
Rome
Alitalia
1-800-223-5730
DIRECT FLIGHTS

In addition, Cyprus Airways provides regular daily flights from London, Amsterdam and other major European and Middle Eastern gateways to Cyprus. For current flight schedules and fares call Cyprus Airways at 1-877-FLY-ON-CY or 1-718-267-6882.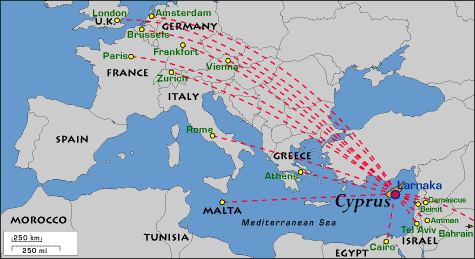 AIRPORTS IN CYPRUS

The major international airport in Cyprus is Larnaca International (LCA); a smaller international airport is located in Pafos (PFO). Flight time from London to Larnaca is 4.5 hours; from Frankfurt, 3.5 hours; from Athens, 1 hour and 45 minutes.
FLIGHT TIMES TO CYPRUS
New York
11 hours
London
4 hours, 30 minutes
Amsterdam
3 hours, 30 minutes
Paris
3 hours, 30 minutes
Frankfurt
3 hours, 30 minutes
Vienna
3 hours
Zurich
3 hours
Bahrain
3 hours
Malta
2 hours
Athens
1 hour, 40 minutes
Cairo
1 hour, 15 minutes
Tel Aviv
40 minutes